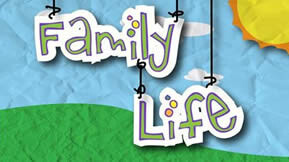 Family Ministry at Hope involves every person in our faith community. It is not limited to size or shape of one's family since each person is part of the larger Christian family.
Family Ministry at Hope is designed to strengthen an individual in his/her faith journey so each person will be a strong part of his/her family.
Family Ministry creates opportunities for all people to experience faith environments in the context of Christian community.
Family Ministry encourages men, women, married couples and families to grow in their faith journey as individuals, couples and families through various programs as outlined below:
Men's Ministry: linkHOPE groups, Quarterly Gatherings and the Annual Men's Fall Retreat.
Women's Ministry: linkHOPE groups, Spring Tea, Annual Fall Retreat, LWML circuit gatherings and service opportunities throughout the year.
Marriage Ministry: Marriage Classes, Annual Winter Marriage Enrichment Event & other Marriage Retreat Opportunities.
Family Ministry: Weekly Parenting Classes, Monthly Sunday Morning Faith Family Events, All Church Picnic and City Serve Family Serve day.
Contact Patra Mueller for more information.