The Hope Lutheran Church Foundation
Contributing to Hope's Financial Future through Endowment.
"But instead store up for yourselves treasures in heaven, where moth and rust do not destroy, and where thieves do not break in and steal. For where your treasure is, there your heart will be also."
Matthew 6:20-21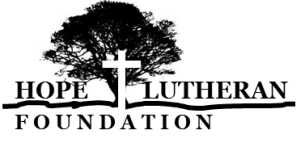 Purpose: The Foundation's purpose is to provide financial support to enhance the mission and ministries of Hope Lutheran Church and School, both presently and with a view to the future.
Mission: Engaging the disinterested to walk in the Hope of Jesus
About: The Hope Lutheran Foundation (HLF) was created to provide a steady and growing stream of interest income to be used now and in the future to support the ministries of both Hope Lutheran Church and School. As it grows, the Foundation has potential to augment and initiate new ministries at Hope.
"The Foundation is charged with advancing the educational & spiritual missions of Hope Lutheran Church through the stewardship and management of lasting financial gifts that are held in perpetuity. As the Foundation's assets grow, the interest earned will be distributed via grants to support Hope ministries not otherwise funded through the church budget." -First Annual Report 2007, Karen Webster
As the HLF has grown, its funds are primarily "un-designated." These funds can be used in any way Hope's church leaders and Foundation trustees together see as beneficial for church and school ministries. Based on the original Funding Areas, we aim to support Hope Lutheran Church ministries and members carrying out The Great Commission, church projects & opportunities, school needs & projects, continuing education needs for professional church workers, and special needs for Hope facilities and properties.
WAYS TO GIVE TO THE HOPE LUTHERAN FOUNDATION
The Foundation has had 501(c)(3) status since 2007, making gifts to it tax deductible. Contributions can be designated to the school or can be undesignated, supporting both present and future ministries.
For reference, our Tax ID # (EIN) is 68-0618-344
To make a one-time or recurring donation, click here
Stock Transfers: Click HERE for Stock Transfer Instructions.
Planned Giving: Planned gifts help ensure that the ministries of Hope Lutheran will be vibrant for generations to come. Consider making Hope part of your legacy with a gift to the Hope Lutheran Foundation through your real estate, your will, a Charitable Remainder Trust, or through an Insurance Policy, Retirement plan, or IRA.
Annual Giving: In its early years, the Hope Lutheran Foundation has owed much of its growth to one-time, monthly, and yearly contributions from members. You are welcome to give any amount by check in the offering plate or throughout the church website at any point during the years. Simply specify Hope Lutheran Foundation.
GRANTS
The HLF is proud to offer grants to members of Hope Lutheran Church for the purpose of enhancing the ministries of Hope Church and School. A Ministry Action Team leader must approve grant applications before they are submitted. Grant application periods are typically March 1-31 and September 1-30.
Examples of past grants awarded include: Hope School Enrichment programs; guest speakers at Hope; outreach projects through Human Care Ministry; emergency supplies; furniture; kits to help start a school robotics program; and continuing education funds for Hope's staff.
Click HERE for a Hope Lutheran Foundation Grant Application.
CONTACT US!
We encourage you to talk with the Foundation Trustees, past or present, about our church's foundation!
The Hope Lutheran Foundation
c/o Hope Lutheran Church
4456 42nd Ave SW
Seattle, WA 98116