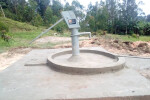 Rwanda Project Update from Julie Hill with Living Water International
Muraho Rwanda team and Hope family,
Some good news to share with you all today…. I've just heard from our Living Water Rwanda team that the project you funded has been fully completed!!
What a moment to pause, praise and celebrate. What a road it has been to get here and I know we all wish we'd seen it all with our own eyes. I continue to praise God for our safety, health and security and for that of our Rwanda team as well, and this community that has safe water, sanitation and hygiene (hand washing!) now, thanks to all of you.
I will have the full, complete report to share with all of you in about two months, but until then, I wanted to share some details about the well and community. The project was completed at the ADEPR Church Byimana in the region/work area of Ruhango, in southern Rwanda. ADEPR is the Pentecostal Church of Rwanda.
The pastor of the church saw the incredible struggle of the people in his community as they suffered without water. The only real source of water they had was a tank of harvested rainwater, which was unclean, and was not nearly enough to supply the community on a regular basis.
And friends, what do you know?? Just as Hope Lutheran is both a church and school in one facility, so too is the ADEPR Church Byimana. This well you have funded will provide safe and sustained water for the 753 community members; students and teachers at the school as well as the wider community.
I've attached some photos from the area to give you just as a glimpse as the final reporting is coming together. Praise be for this project and its completion. For what it means for this church and school, especially now that COVID-19 is sweeping through Rwanda. They are far better protected with WASH (water access sanitation hygiene), thanks to all of you and the wider family at Hope.