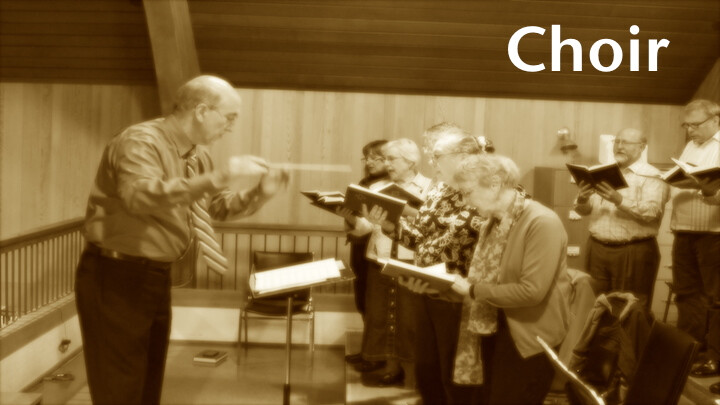 A Note from Michael Dart, Choir Director
Hello, my name is Michael Dart, and I am privileged to lead the choral music program at Hope Lutheran Church.
Hope Church Choir continues its long tradition of service to Hope congregation through performance in worship, presentation of special concerts, and community outreach. Meeting for rehearsal each Wednesday evening in the church sanctuary from mid-August through mid-June, the choir prepares music in a wide variety of genres, including jazz, gospel, traditional hymnody and choral arrangements of contemporary worship literature. We add new material to our choral library each year, both to take advantage of the wonderfully creative new repertoire available from choral composers, and to assure variety and challenge for our singers.
Hope Choir is a non-auditioned ensemble, and note-reading ability is valued but not essential. All that is required for participation is the capacity to hear and sing notes with reasonable pitch, willingness to take direction, and commitment to regular and focused rehearsal. Our rehearsals are vigorous and joyful, characterized by fellowship, humor, mutual support and, at the close of our time together, a few moments set aside for lifting up petitions and praises in prayer.
Our choral music program is also dedicated to collaboration with instrumental musicians, and we are always seeking talented musicians to supplement and enhance our vocal performances, both in Sunday worship and for special concerts and events. We have available many choral compositions with instrumental accompaniment in virtually every variety of orchestral instruments, including strings, woodwinds, brass and percussion. The level of skill required varies, but most selections are accessible for players of intermediate achievement or better, particularly if one plays/practices regularly. Please let us know of your interest in joining us as an instrumentalist and we can seek options which match your level of preparation. Although we benefit from the extraordinary talent of our choir accompanist, we also welcome pianists to join her in special presentations, such as four-hand piano accompaniments or piano and organ duets.
Many of our choir members comment that, although they may feel fatigued from the challenges of their workday before arriving at our weekly rehearsal, they are invariably energized and uplifted by the music and fellowship we share each week. It would be a great pleasure to have you join us in Hope Choir, for a special concert, for a season, or for a year and more. I would be delighted to answer any questions you may have about our choir program and how it might fit your schedule. Feel free to contact me at (206) 779-7704.
Blessings,
Michael Dart, Choir Director