Words of Gratitude and Thanksgiving
I write this morning with a full and grateful heart for all of you at Hope Lutheran Church.
What a joy to have had the opportunity to share and worship with you at both services this past weekend! It was wonderful to see and be with so many friends, old and new. And to reflect on the truly remarkable, global impact your community has had for those who suffer without water globally.
Since we began serving the thirsty together NINE years ago (let's have a party for next year, ok?), YOU have provided $108, 965.69 to share critically needed safe water globally. You've funded 14 wells for 4 countries (Rwanda, India, Liberia, Nicaragua), across 3 continents. God bless every one of these numbers for they represent His goodness and the generosity of His people.
This past year, your Advent funds from 2020 funded a new well for the community of Kabugsu II in our work area of Ruhango. The only source of water for the 264 men, women and children was this contaminated stream a hike from the village itself: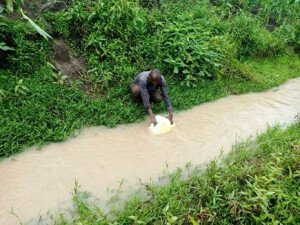 The community has suffered for generations UNTIL a community leader approached our Living Water Rwanda staff working in the area requesting a well, the team was able to visit and assess the area, and because of you, Hope Lutheran, this well was completed for the people of Kabugsu II. Their water crisis is over. There is plentiful safe and clean water to drink there today, to be used for all needs, and the local pastor proclaimed the well as the demonstration of the hope and love of Christ, the one true Living Water.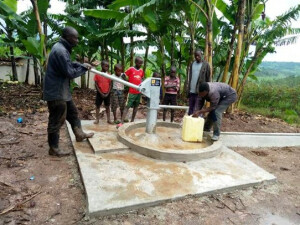 From all of us, from the people of Kabugsu, from Living Water Rwanda, from our Living Water US operations and my own heart, thank you, THANK YOU for this support which has changed the trajectory of all life for Kabugsu II.
I also mentioned that many from the team that was to go to Rwanda in 2020 so generously elected to use funds they had spent for their trips to fund a SECOND well in Rwanda that is in process now. I'll be able to report on that very special bonus project in the months ahead. Thank you!
Rather than a worship song, I thought I'd close with these beautiful worshipful words from Thomas Merton, for they are so fitting for us this week.
ON GRATITUDE - Thomas Merton, Thoughts in Solitude
Gratitude is more than a mental exercise, more than a formula of words. We cannot be satisfied to make a mental note of things which God has done for us and then perfunctorily thank Him for favors received. To be grateful is to recognize the love of God in everything He has given us—and He has given us everything. Every breath we draw is a gift of His love, every moment of existence is grace, for it brings with us immense graces from Him. Gratitude therefore takes nothing for granted, is never unresponsive, is constantly awakening to new wonder, and to praise of the goodness of God. For the grateful person knows that God is good, not by hearsay but by experience. And that is what makes all the difference… Gratitude is therefore the heart of the Christian life.
Much love and it's in Christ,
Julie Hill
Living Water International