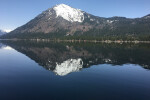 I Am Making All Things New
By Patra Mueller, Family Life Minister
As I was walking in Lincoln Park last summer, struggling to accept what life looked like during the pandemic, I heard the Spirit whisper this phrase,
"I am making all things new." As I thought about it, I realized that it came from John's vision of heaven in Revelation 21:3-4.
"He will wipe every tear from their eyes. There will be no more death or mourning or crying or pain, for the old order of things has passed away." He who was seated on the throne said, "I am making all things new!"
Over the past eight months when I have felt discouraged, I have often gone back to this phrase for comfort and assurance. This is the message of Easter! As we look forward to the hope of a new heaven and new earth, we are encouraged and strengthened to live in this resurrection hope NOW, in each moment of every day!
As Jesus was preparing his disciples for his death, he promised them that He would never leave them but rather send the Holy Spirit to live in them. This promise is for us today! The same power that raised Jesus from the grave on the first Easter Sunday is available to us.
Where do you need resurrection power in your life? I encourage you to give the broken and painful places in your life to Jesus. He took the punishment for all the ugliness in our world on the cross on Good Friday and conquered death on Easter morning so that we can live victorious lives now. In John 10:10 he said, "The thief comes only to steal and kill and destroy; I have come that you may have life, and have it to the fullest."
He is Risen! He is Risen Indeed! Alleluia!!